viz @ tilde.town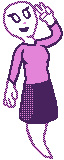 hello! i'm invisibleup (she/her/hers), friendly internet ghost, asm enthusiast, occasional doodler, and sometimes a rom hacker and a blogger too.
i'm just getting started here, but check out my other website at invisibleup.com.
i'm also the owner and administrator of park city, a similar sort of server for me and my friends.
don't be afraid to email me! i love getting to meet new people. ^-^