Drag Strip Riot!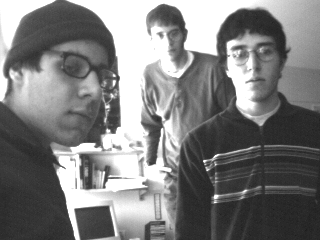 Hello. This is the Drag Strip Riot Home Page. We are a band that plays rock and roll.
Erik sings. Joe V plays guitar. Josh plays bass. JT plays drums.
We just recorded an LP at Snugfit studios. It is called THE BEST SOUND QUALITY. It will be out sometime early in 1997.
For Show dates or booking or whatever you can call us at 609.427.9342 or 215.629.9744. or write to 170 sheridan ave. cherry hill nj. 08002. or if technologically inclined you can email us at joshcarr@eden.rutgers.edu
The Best Sound Quality
Sublife Dream
Shore Sound
Never Too Slow Again
The First In Years
Links
email Drag Strip Riot for show dates, booking and other info joshcarr@eden.rutgers.edu