tastytown!
To contribute to tastytown, please check the example file at this link
Grilled Cheese
Categories: lunch,dinner
Tags: sandwich,cheese,bread
2 slices bread
2 slices cheese
Some butter (softened)
Preheat a frying pan on medium-low heat on your stove.
Generously butter one side of each slice of bread.
Make the sandwich with your cheese as the filling and with the bread's buttered sides facing out.
Determine if your pan is preheated by flicking some water on using your fingers. If it sizzles and evaporates quickly, it's preheated.
Place your sandwich on the pan using a spatula. Start checking on occasion once the butter is no longer sizzling.
At your desired doneness, flip it over and repeat.
Once the sandwich is properly grilled, remove it from the pan and cut in half diagonally. This makes it taste better.
aubergine and pea curry
Categories: dinner
Tags: curry,aubergine,pea
1 per person aubergine, half inch cubes
1/2 per person onion cut small
1 per person big tomato half inch cubes
handful per person peas (i use frozen)
couple cloves garlic
tablespon cumin
tablespoon coriander
teaspoon turmeric
pinch salt
quarter teaspoon chilli poweder (or less or more who knows idk)
some mustard seeds
glug oil
stick some oil in a casserole dish type thing and put on a medium heat
add mustard seeds
when the mustard seeds pop, add the onion and garlic
cook until they are translucent
add the tomato and spices
cook for like five minutes or something i don't remember
once you got that sauce going, add the aubergine
stir it so it gets coated
lid on for half an hour or so
once the aubergine is cooked (eating it is not a chore), add the peas
leave like five minutes and serve
oh aybe olse cook some naan breads with it
/home/wtee/.tastytown/wteeMustardLeekSoup.recipe was formatted incorrectly :P
Shakshouka
Categories: breakfast,lunch
Tags: vegetarian,spicy
some olive oil
a few onions
a few green bell peppers
a few tomatoes
some passata
a few eggs
some parsley
a bit of harissa
some garlic
some cumin
some paprika
some salt
some pepper
some sort of bread
The ratio of onions to bell peppers to tomatoes should be around 2:2:3 or 1:1:2
Dice the onions, garlic, bell peppers and tomatoes. You don't have to cut them too small.
Heat olive oil in a deep, large pan, add diced onions, green bell peppers and garlic.
Add cumin, paprika, salt and pepper (to taste but I found it takes a lot more than I initially thought it would) and cook the mixture until the vegetables soften.
Add the chopped tomatoes, bring to a boil, then cover and let it cook for about fifteen-to-twenty minutes, stirring occasionally (it might burn on the bottom otherwise).
Sometimes, depending on the tomatoes, it might get really watery. In that case try to remove as much liquid from the top with a spoon as you can.
Once it gets to a desired consistency, add passata and one or two teaspoons of harissa, stir and cover.
Once it forms into a sort of paste, uncover and taste. This is the last time you will be able to stir it before adding the eggs, so add more spices depending on taste. Salt is essential here to counteract the bitterness of the tomatoes.
If you're happy with the taste, make small wells using the backside of a spoon and crack the eggs into them.
Lower the heat a bit and cover until eggs are cooked, depending on how you like them. I like the yolk to be a bit runny.
Serve with parsley and toasted bread.
Banana Bread (it's actually cake)
Categories: breakfast,snack,dessert
Tags: cake,baking,bananas,sweet,imperial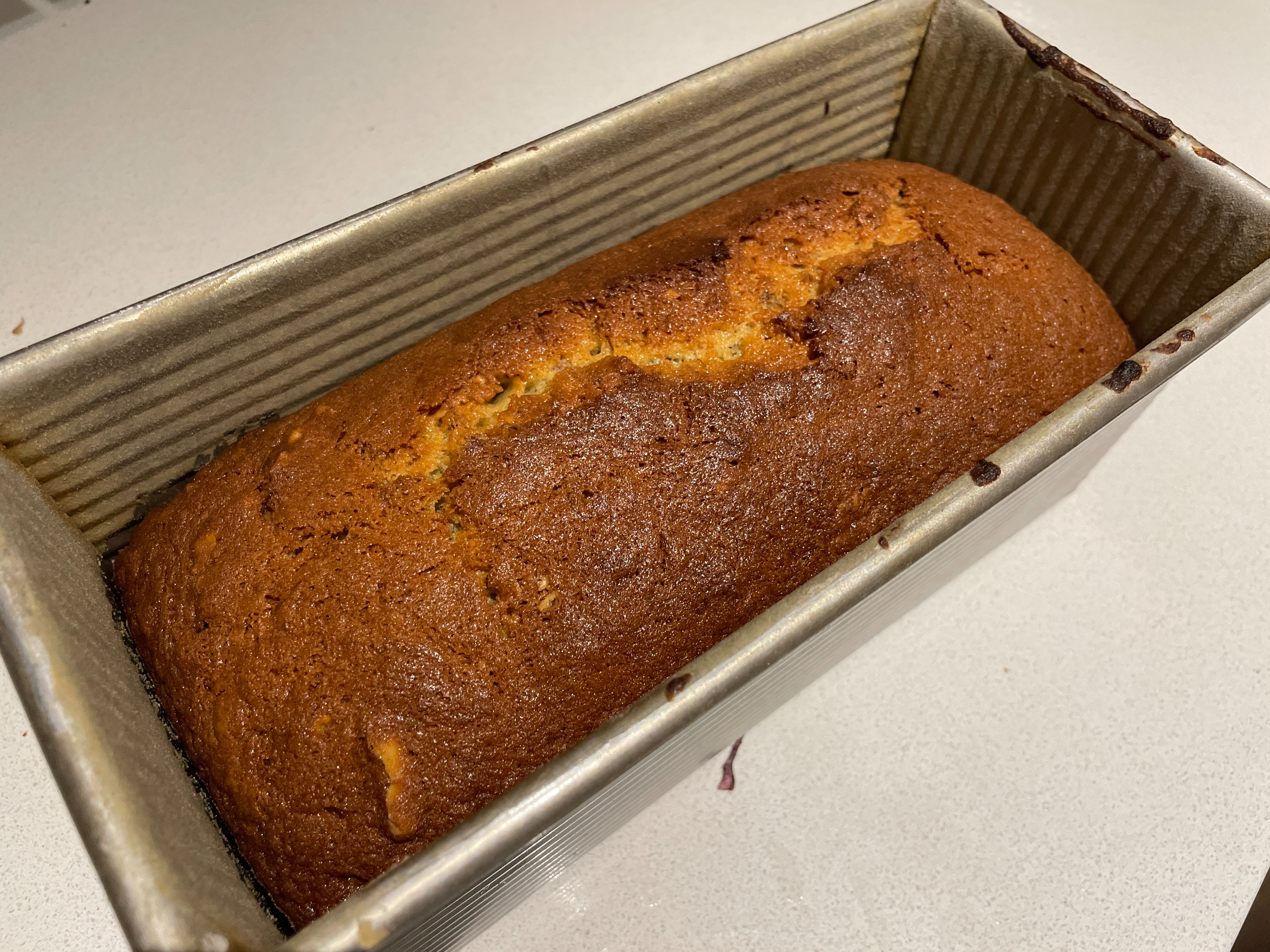 1 tsp baking soda
4 tbsp (60g) sour cream
1/2 cup (1 stick) butter
1 1/4 cups (250g) white sugar
2 eggs
1 cup mashed up ripe bananas
1 tsp baking powder
1 tsp vanilla
1 pinch salt (optional)
1 1/2 cups (271.5g) all purpose flour
whatever feels right chopped walnuts (optional)
whatever feels right bits/chips of chocolate (optional)
1 loaf pan 4" wide, 8" to 9" long
some extra flour and butter for greasing and flouring the pan.
1 cake tester or toothpick
If butter is cold, leave it out on the counter until it is soft and room temperature.
Preheat oven to 350° Fahrenheit.
Mix the baking soda and sour cream in a bowl until combined. Set the bowl aside.
Mix the butter and sugar in a large mixing bowl until creamy. A stand mixer is recommended, but not required.
Mix the eggs into the butter sugar one egg at a time.
Mix in the sour cream preparation.
Mix in the banana mush.
Mix in the baking powder and vanilla.
Optionally mix in salt. Good idea if using unsalted butter.
Mix in the flour 1/2 cup at a time until fully combined.
If including walnuts, toast them on a tray in the preheated oven for a few minutes to enhance the flavor.
Optionally mix in walnuts, chocolate, or whatever your heart desires.
Rub butter all over the inside of the loaf pan. Really get your hands in there and spread it all over the bottom and sides.
Plop some flour into the pan. Then, while standing over the sink, shake the pan around so the flour coats the entire inside buttered surface. Finish by turning the pan upside down and tapping on it to shake off excess flour.
Pour all of the batter into floured loaf pan.
Bake in the oven for about an hour. Varies by oven, elevation, etc. If it's ready a toothpick or cake tester inserted into the top will come out clean.
Let it cool on the counter for awhile.
When it's cool enough, turn the pan upside down, and the bread should fall right out. Slice and serve.
Wrap extra in aluminum foil to retain freshness.