Down and Out in the World of Tomorrow
Hi. This is my ~town homepage.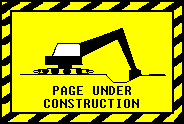 I'm a technology professional, photographer, musician, and writer from Texas. I've been around on the 'net since the mid/late '90s, so I've seen a lot change, and I thought it'd be fun to reconnect with the old ways of doing things here, as a little hobby. I'm going to let this...whatever I do here evolve into something cool. I'll share some tunes, some photos, and some thoughts. And I'll probably break something.
Until I get this here page all fancied-up, you can find me on Twitter and Tumblr and Flickr.